Dollar Eases on Yellen Remarks, EUR/USD at 1-Month Lows
Market Commentary
* The U.S. dollar was underpinned by remarks from the Federal Reserve chief on the need to continue with rate hikes, while the euro licked the wounds from political uncertainty following the German election at weekend. The dollar's index stood at 93.07 in early Wednesday trade after it reached a high of 93.286 the previous day, its highest level in almost a month.
* Fed Chair Janet Yellen said on Tuesday that the Federal Reserve needs to continue gradual rate hikes despite broad uncertainty about the path of inflation.
• Against the yen the dollar stood at 112.27 yen, bouncing back from Tuesday's low of 111.50. The euro slipped to a five-week low of 1.17575 on Tuesday and last stood at 1.1790.
* The biggest focus for the market for Wednesday is the announcement of a tax plan by the U.S. administration and Republicans in Congress.
* The rupee fell to hit a fresh six-month low of 65.51 against US dollar. The unit closed at 65.49, 38 paise weak against previous close of 65.11. The Indian rupee is reeling under pressure because of the increased buying in the safe-haven assets such as gold and yen and the continuous strengthening of the US dollar against a basket of currencies. We expect the pair to trade in the range of 65.20-65.65 for the day.
USDINR Spot Technical Outlook
Observations:
* Prices above the resistance placed at 65.37
• And prices closed above 5(65.2493) and 3(64.4419) EMA
Inferences:
* Trend is bullish
* If prices sustain above 65.37 we might see prices testing 65.86 levels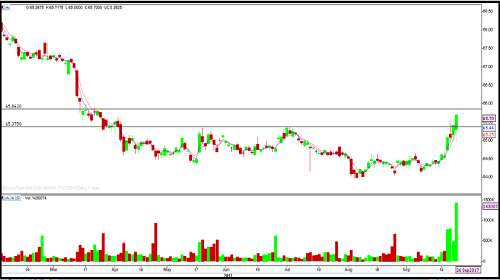 EURINR Spot Technical Outlook
Observations:
* Prices are making higher high and higher low
* And prices closed below 5(77.6485) and 3(77.6852)EMA
Inferences:
* Trend is bullish
* Buy on deeps till 76.50 is not broken on the down side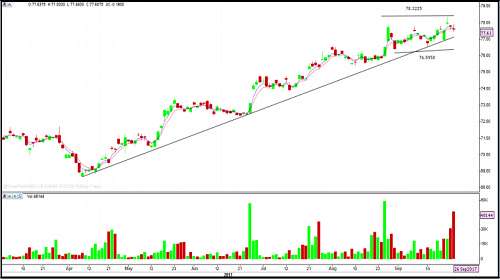 GBPINR Spot Technical Outlook
Observations:
* Prices have sustain above the support placed at 87.99
* And prices closed above 5(87.9940) and 3(88.2136) EMA
Inferences:
* Trend is bullish
* If prices sustain above 87.99 we might see prices testing 89.99 levels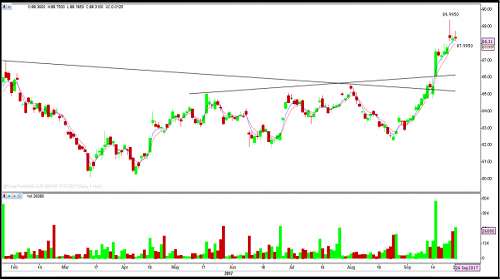 JPYINR Spot Technical Outlook
Observations:
* Prices break below the upward sloping trend line and are trading below it
* And closed above 5(58.4134) and above 3(58.5183) EMA
Inferences:
* Trend is bearish
* If prices break above 59 we might see prices testing 59.50
To Read Complete Report & Disclaimer
For More GEPLCapital Ltd Disclaimer www.geplcapital.com/Disclaimer.aspx & SEBI Registration number is INH000000081
Views express by all participants are for information & acadamic purpose only. Kindly read disclaimer before refering below views.For Disclaimer
Related Post:
Geopolitical Tensions: US Dollar Falls
Rupee Down 6 Paise At 64.15 Against US Dollar
A Winning Bearish Dollar Bet: Local Currency Emerging Markets Bonds